Being a knight in the Middle Ages was not as easy as one would think.  For one, he was required to have mad skills and impeccable strength in times of fighting.  However, he also had to keep his aggression in balance while displaying respectable behavior, as dictated by the knight's code.  This code wasn't just a mere set of edicts and statutes to follow, but extended beyond that to be understood by all as a moral system.  And thus, chivalry was born implementing a code of conduct that every knight should strive for with values of courage, honor, courtesy, and the utmost treatment of women.
Medieval Swords: http://www.armorvenue.com/swords-medieval-swords.html
Medieval Knight Complete Set: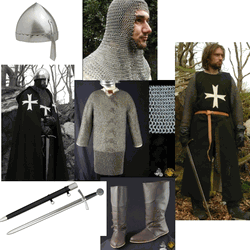 The Knight's Code of Chivalry dates back to the 12th century and was widespread, even making appearances in literature, one of the most popular being "The Song of Roland".  In this piece, the code is laid out as follows:
fear God and maintain His Church
To serve the liege lord in valour and faith
To protect the weak and defenseless
To give succour to widows and orphans
To refrain from the wanton giving of offence
To live by honour and for glory
To despise pecuniary reward
To fight for the welfare of all
To obey those placed in authority
To guard the honour of fellow knights
To eschew unfairness, meanness and deceit
To keep faith
At all times to speak the truth
To persevere to the end in any enterprise begun
To respect the honour of women
Never to refuse a challenge from an equal
Never to turn the back upon a foe
Knight mace:
The values of the Knight's Code were also reflected in the vows made during a knighting ceremony.  Needless to say, these were not to be taken lately.  As the saying goes, "With great honor comes great responsibility".  The Knight's Code lasted through the Middle Ages, though undergoing a few changes, and continued through the Dark Ages, as well as laying a foundation for conduct in other cultures.
To see our collection of medieval knight armor and weapons, visit http://www.armorvenue.com/.