Scholars who study history have differing theories for the reasons behind the brush on a Roman soldier's helmet. There are 3 main theories: decoration, protection, and rank. These theories aren't mutually exclusive, so you don't have to believe one is better than the other. However, for those who are experts in the subject, they can spark a debate.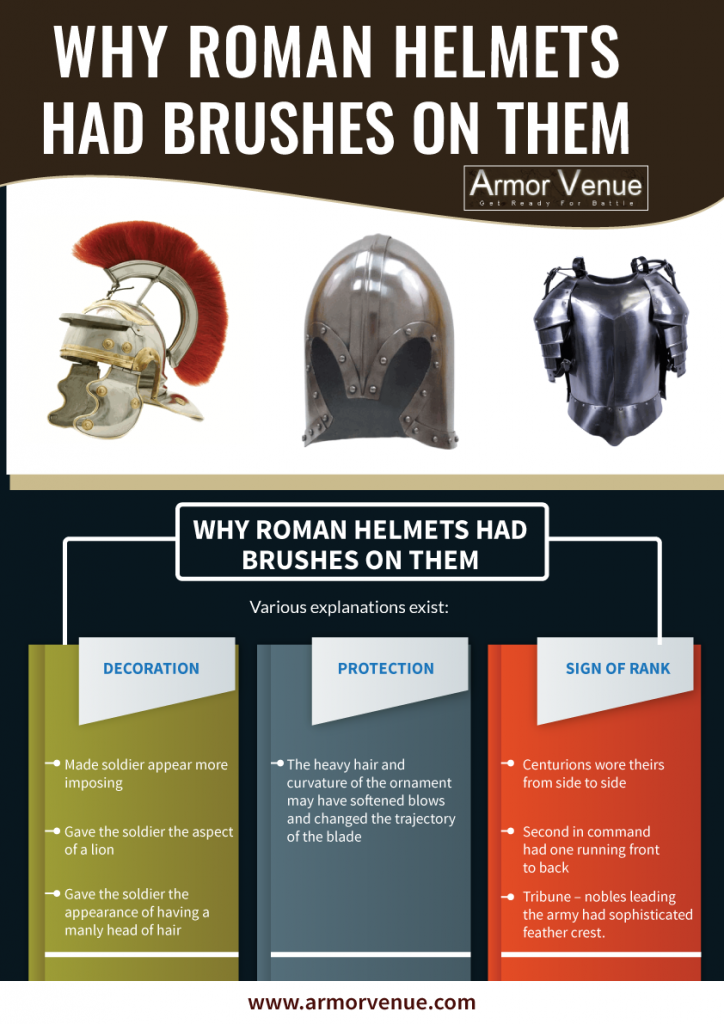 As a decoration, the plume may not have been without function. Soldiers with brushes would look taller to the enemy and be more imposing. The Romans were not impervious to the belief in magic, so the right type of plume may have encouraged soldiers to take on an aspect related to the brush. A brush that looked like a lion's mane may have inspired lion-like courage.
Many of the brushes were made of thick horsehair with a curved rod of metal keeping it attached to the helmet, which could give it some protective qualities. Some scholars have pointed out that different ranks wore different kinds of brushes. A side to side brush signified a Centurion. A front to back brush signified the second in command.
At the Armor Venue, we specialize in creating historically accurate armor from many time periods. Regardless of the reason for the brush on the helmet, when you order from us, you're getting a highly detailed, wearable work of art. Our work is second to none. Contact us with your armor needs. We look forward to helping you find the right conversation or reenactment pieces.